With our awesome weather and spectacular scenery, it's no wonder San Diegans are also big dog lovers. You see, with so much to do outdoors, it only makes sense to have a canine companion alongside when you're out and about, either walking through the neighborhood or strolling along the boardwalk or stopping at a coffeehouse. But our dogs need a place to let go and romp around and be, well, dogs.
San Diego has some specifically designated outdoor spots to take your dog to socialize with others of their ilk and do whatever dogs love to do: you know, sniff, bark, growl, chase, pant, and, uh, mark. And remember, as a responsible dog-owner, please adhere to each area's rules and regulations – and no matter where you are with your dog, PLEASE CLEAN UP AFTER HE OR SHE DOES ITS BUSINESS!!
Dog Beach – Del Mar
A nice, low key spit of sand to let your dog roam in lovely Del Mar, but with limitations: the off-leash designated is seasonal only, so bring your dog without its leash only from September to June. Ask anyone in Del Mar where Dog Beach is and those who have dogs will know exactly where it is: At the border of the south end of Solana Beach and the north end of Del Mar, or North Beach. During certain times of the year (day after Labor Day), dogs are allowed to run free off-leash, and it is quite a spectacle on the weekends. Parking is also at a premium, and parking tickets flow freely in Del Mar. Camino del Mar, Del Mar. Google Map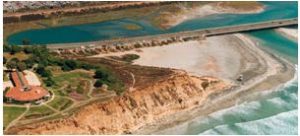 The Rules At Del Mar Dog Beach:
Out-of-control doggie behavior is prohibited. Del Mar lifeguards enforce the rules and will write you a ticket.

The Crowd At Del Mar Dog Beach:
This is a very respectable pet-owning crowd. The beach is low-key with few incidents.
Facilities at Del Mar Dog Beach:
Most owners use the city-supplied clean-up mitts, but it's still a good idea to watch your step. There are people restrooms, too, in the form of portable toilets.

Dog-Friendly Places in Del Mar

You might want to check out a very special place called Three Dog Bakery located at Flower Hill Promenade, Del Mar, It's filled with gourmet treats for you  pup.  http://threedogsd.com/

Dexter's Deli, in Del Mar village. Dexter's Deli is the "original" health food store for dogs and cats. It's unlike any pet store you've ever visited. Dexter's is the next generation of pet supply stores. Providing the best in natural alternative diets, up-to-date nutritional information, fresh homemade foods and snacks, cool collars, and the wildest toys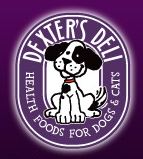 and gifts. http://www.dextersdeli.com/
The Del Mar Kiwanis Club's 17th annual Ugly Dog Contest brought around 2,000 humans and some 400 dogs this past Sunday to the Del Mar Fairgrounds, where the canines competed in numerous categories. The contest is a fundraiser for the Rancho Coastal Humane Society's Safehouse Program, which provides shelter for pets of domestic violence survivors, and the Helen Woodward Therapeutic Riding Program, which offers horse riding to people with disabilities.
Read more: http://www.nctimes.com/news/local/del-mar/del-mar-beauty-abounds-as-ugly-dogs-compete/article_96d1c0b3-4240-5917-9922-a6572bfa1017.html#ixzz1p8dOmBvK

Another fun event is the Surf Dog Surf-A-Thon that raises funds for orphaned animals at the Helen Woodward Animal Center. Owners and their pets will participate in 20-minute heats based on the dog's weight class. They will be judged on their ability to ride the waves, having fun and staying on their boards. There will be 1st, 2nd, and 3rd place winners for each weight class and the first place winner will move on to the finals. This event will help raise awareness and money for orphaned pets while promoting responsible pet ownership. Interactive sponsor tents will be on site for pet owners and their families, providing lots of fun activities for everyone. Helen Woodward Animal Center will be on site with adoptable dogs and trained professionals to answer any type of animal related question. HWAC will also have an interactive tent with fun games and crafts for children and pets to play.
You might also be interested in Dogs of Del Mar Calendar. You can order them at www.schellingphotography.com