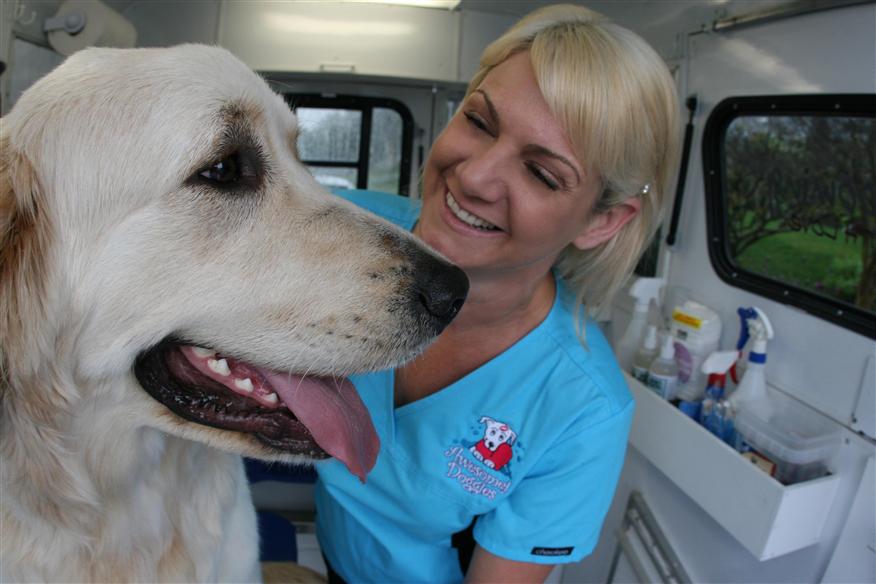 One very important aspect of caring for your dog is making sure that they are properly groomed. Grooming a dog is a very in-depth process and involves several steps. Because of this, it is important that it is done properly. A great way to go about getting your dog groomed is to call a mobile groomer to have them come and groom your dog. A groomer has likely gone through some kind of official training and has years of experience grooming dogs of all kinds. There are so many excellent reasons to have your dog professionally groomed by us and here are three of these reasons.
They Get A More Thorough Grooming 
When we come to you to groom your dog, you know that your dog will get a much more thorough grooming experience than they would likely get at home. We will begin by washing your dog from head to tail and then completely rinsing them off. This is a great way to get out unnecessary knots and tangles before we begin cutting your dog's hair and it also helps to remove any build-up from your dogs eyes and/or ears.
We will then carefully give your dog the haircut that you requested and will make sure that the hair around their paws, ears, and eyes is properly trimmed. At this point, it is time for the finishing touches. This often involves cutting your dogs nails, brushing their teeth, and perhaps adding a cute bow or bandana for a finishing touch.
The Proper Cleaners And Tools Are Used 
When your dog is groomed, it is very important that the appropriate shampoos and other cleaners are used, as well as the proper tools. This helps to keep your dog, and we as groomers, as safe as possible. Thankfully, we have all of the equipment right on hand that is needed to properly groom your dog. This includes a variety of dog shampoos that we use for dogs with different skin types and coats, so you have the comfort of knowing that your dog's coat or skin will have no negative effects, such as dry skin or hair falling out.
We also have a variety of tools that we use when grooming your dog. We have a table for your dog to stand on with an attached overhead arm that holds your dog's leash in place. This stops your dog from being able to move too much and allows us to safely and successfully cut your dog's hair. If your dog is a bit nervous or aggressive when being groomed, we may also use one of the muzzles that we have on hand to avoid being bitten. Other tools include, hair clips, dog brushes and combs, dog nail clippers, dog toothbrushes, etc.
Your House Stays Clean
When we come to groom your dog, all of the grooming is done in our mobile pet trailer. This allows your home to stay a lot cleaner. For one thing, you don't have to worry about a dirty bathtub from bathing your dog inside of it. Also, you won't get hair all over your house when you are trying to cut your dog's hair by yourself.
Your dog will also be much cleaner if you we groom them on a regular basis, thus reducing the amount of dog hair in your home, as well as helping reduce whatever your dog tracks into the house each time they go outside and get dirty.
Choosing to use our mobile grooming services for your dog is an excellent idea because they get a more thorough grooming than they likely would at home, the proper cleaners and tools are used when your dog is being groomed, and you can keep your home a lot cleaner because you don't have to groom them at home and because your dog is simply much cleaner.
For more information on our mobile pet grooming services, visit us here.