Veterans Day is an official US holiday honoring people who have served in the US Armed forces. We are always so filled with humility and pride when we think of those who've served and sacrificed. Here in the Sand Diego, we have the pleasure of running in to and meeting many members of the military and their families. Before we get too far along in this blog, we at Awesome Doggies would love to say "Thank You" from the bottom of our hearts. We appreciate your service.

This special day made us think of some other members of the military, often overlooked and forgotten—the canine members.

Military working dogs have been used in the US military since World War I, but dogs trained for battle is no new trick. Archeologists have found evidence of humans specially training dogs to help in battle as far back as 15,000 years ago. That is about the time they were domesticated.

And it makes sense in so many ways. What better "comrade" for your "comrade in arms"?

There are around 3,000 dogs serving in the US military worldwide, and some of them in combat zones. They are trained to find bombs, sniff out insurgents, jump from helicopters, black ops, and so much more. They serve as an invaluable support to human troops and have saved many lives.

If you'd like to read some incredible stories of canine heroism in the military, check out the new book "War Dogs" by Rebecca Frankel. It is a great read about the deep bond between soldiers and their canine troops.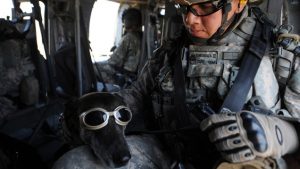 And seriously, these dogs are pretty darn incredible. Like, how many of us have jumped from 12,500 feet from a helicopter? Or who else could rock these doggles(Yes, they are actually called doggles!) quite as well?
As amazing as all that they do in service, still no job is more important than that of best friend. For more information about supporting our canine military, visit the United States War Dog Association, inc. 
To see more photos of war dogs in action, check out this link!
26 Awesome Photos of War Dogs l Gizmodo