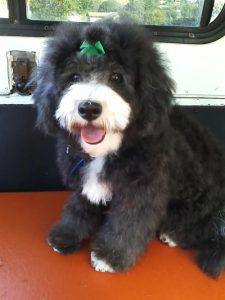 For some families, every single family member gets a stocking stuffed to the brim with treats and toys and we see no reason why your furriest family member should be left out of the fun. In case your pet didn't get what they wanted for Christmas, here are some ideas for treating them.
1) Rawhide Candy Canes
Almost everyone, child or adult, loves the abundance of candy canes over the holiday season. You can almost always get a few from teachers at school and from various sources at work where people have simply left them in piles or arranged neatly in clean coffee mugs for anyone to take one. While dogs can eat peppermint, they don't tend to go for nearly pure sugar candy but they do need to keep those choppers clean and busy! Instead of candy, stuff your dog's stocking with red and white twisted rawhide candy canes instead!
2) A Shiny New 2-Mode Brush
If you brush our dog as often as you should (once a day to once a week), your old dog brush is probably looking pretty worn and a lot of owners don't even have the wire brush which helps clear out loose shed but not yet dropped fur. This year, get your dog something nice with a shiny new double-brush with the wire tines on one side and the soft bristles on the other.
3) Doggy Massage Glove
Let's face it, dogs generally want to be pet for several more hours each day than anyone has the time or stamina for and the thing they really love is steady scritches. If you enjoy sitting with your dog and casually petting them for hours, no doubt the two of you have had many fun times together but eventually your fingers get tired of the scritching. With a soft but ridgy massage glove, you can keep on scritching to the delight of your furry friend for much longer and give your scritching fingers a rest.
4) Jingly Holiday Tennis Balls
While our primary focus is on keeping your dog well-groomed, who can resist a pair of holiday-decorated tennis balls with sleigh bells inside? Not your dog, that's for sure. Never have to work for your dog's attention when playing outside again. Simply shake one of these bouncy holiday treats and let the game of Fetch begin!
5) Sharp New Nail Clippers
Nail clipping isn't any dog's idea of a favorite pastime but some clippings can be a lot better than others. Like all nail-care items, doggy nail clippers eventually get dull, making the task unnecessarily difficult. With sharp new nail clippers, you should be able to take care of this task far more quickly and easily.
6) A Zippy Mini Drone
Dogs love to chase things, especially strange little things that can land on their noses. If you secretly wanted a mini-drone and need an excuse, get one for your dog! While you play the pilot, your pooch can happily chase this inexpensive little quad-copter around the house and yard.
7) Himalayan Cheese Dental Chews
There are a lot of different kinds of dental chews and by far one of the most natural are made of hard traditional Himalayan cheese, which was originally a travel snack of the mountain-dwelling people. Delicious, porous, and rock-hard, your dog will spend happy hours of cheesy flavored fun cleaning their teeth.
8) Peppermint Dog-Breath Treats
The one downside of cheesy dental chews? No minty doggy breath afterward but that's no problem! If you like dog kisses but don't like the actual smell of your dog's mouth, they can get their share of peppermint treats this year right along with you and the kids. Peppermint-flavored dog treats can be a fun way to play 'catch' this holiday season and improve your dog's breath.
9) Sturdy Stuffed Toy
Dogs go through toys, some faster than others but eventually what was once a stuffed duck becomes a nearly inside-out pile of stuffing. The holidays are a perfect time to gift your dog with a new stuffed toy, destined to become a long-time favorite and then doomed to eventual stuffing destruction. But for now your doggy is incredibly cute with their new reindeer friend.
10) A Doggy Spa Appointment
Finally, don't forget that dogs still need baths in the winter and that bath can be as relaxing and fun as a day at the spa. With mobile grooming service all through the San Diego area, you don't have to take your dog for a holiday bath, we'll come to you! Whether you get them a bath before family comes to visit or after the excitement is up to you. For more great ways to pamper your pooch or to schedule a mobile grooming appointment, contact us today!