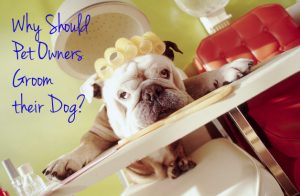 Some dogs need more grooming than others, but all breeds require some sort of care. Short haired breeds may be a breeze to maintain, never needing any attention with scissors or clippers, but oftentimes these short-haired furballs are the ones that shed like crazy. And you may have heard that some of the longer haired breeds (especially poodles and poodle mixes) don't shed, but boy oh boy, plan to spend time brushing those guys to keep their long coats from matting. And of course if you or your kids are sleeping with the family pet, you'll want to be sure the critters are getting bathed regularly. If you're wondering which breeds need the most grooming, check out our blog post on that subject here.  Most dog owners are familiar with the need to keep nails trimmed, and clean and inspect ears regularly, but are you keeping up with their dental hygiene as well? And we haven't even mentioned the wonderful world of anal gland expression. So as you can see, there is a lot more to dog grooming than just a foo-foo hairstyle from the salon.
While dog grooming can be a challenge and is a chore to some, it is very important to get the job done regularly, and done right. Whether you do it yourself, or employ the services of a professional, regular grooming is very important to your pet's overall health and well-being.
Dog Grooming Can Be Fun

If you want to groom your pet yourself, that's fantastic!  Grooming gives you a reason to spend hands-on time with your pet, and you will enjoy teaching your pet to cooperate and enjoy each of the various grooming tasks that pertains to his particular breed.
If you prefer to leave grooming to the professionals, keep in mind there are several things you can work on at home to make dog grooming a stress-free and fun experience for your fur friend. Get your dog used to being handled. Pet your dog regularly and work through any issues he has with being touched on various body parts such as the ears, tail, belly, feet and paws. This will help make him feel more comfortable and relaxed when the time comes for a grooming session. For more tips and info on keeping grooming time fun, download our free guide, "How to Enjoy Stress Free Grooming for Life".  You can request a copy of this helpful publication in the very lower right-hand corner of our home page. (Click on this link, then scroll down all the way to the bottom.) 
Grooming Keeps His Coat in Tip-top Shape
Brushing your dog's coat regularly will help rid it of dirt, unwanted irritants and tangles. Brushing also helps stimulate circulation in the skin, and spreads natural oils throughout the coat. All of these benefits mean that regular brushing contributes to a great looking coat. If your dog is brushed and groomed regularly and still doesn't have a great-looking coat, then take a look at their nutrition — this would be a good time to consult with your vet.
Dog Grooming Fosters a Closer Bond
Being in close contact with your dog is a unique bonding experience. Show your dog affection by spending time together, and spend some of that time on grooming. It is ideal that you start grooming your pet regularly when they are just a puppy, as this is the time when they are getting used to many new things, and setting patterns that will become "normal" for them for life.  If you have an older dog that isn't used to being groomed, just go slowly and expect that it will take longer to get them used to the process.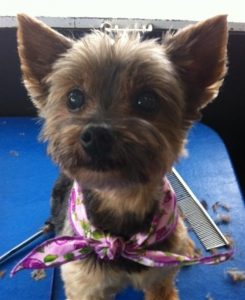 If your dog doesn't enjoy being brushed, either the process is uncomfortable because knots and tangles are being pulled causing pain, or it may be that your pet is nervous about the process in general. Either way, lots of patience, persistence, and more frequent brushing (with plenty of rewards to keep it a positive experience) is usually all that is needed to eventually win your dog over. Practice, practice, practice, and be sure you are using the right type of comb or brush for your dog's coat. Ask your professional groomer for advice on the proper tool. If mats and tangles are excessive, you may also need a professional's assistance to remove them. Once that chore is done, you can prevent a recurrence by keeping up with regular brushing as the new coat grows in.
Dog Grooming is an Investment
Whether you are investing your own time, or hiring a professional groomer to care for your dog, both you and your pet will benefit. Well-groomed pets are healthier, and your pet will be feel better and be happier when well cared for. If you are taking the time to do the chore yourself, your bond will be strengthened. Many a major health issue has been detected early on by an attentive groomer or owner noticing something during a grooming session that would have gone undetected during regular daily interaction.

A well-groomed dog is a pleasure to pet and participating in his care helps you become fully aware of his health. Give your dog a positive grooming experience today. Or ask your local groomer to do it for you!