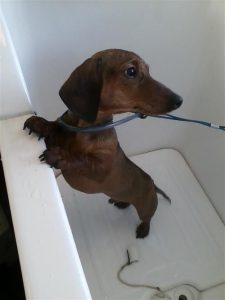 When it comes to professional dog grooming, your lovable furry friend isn't the only one benefiting from the experience. Seeing a groomer on a regular basis is helpful for both you and your fur baby. But just what are the benefits? You might be surprised by how much good it does to treat your dog to a regular "spa day."
Regular Visits Could Catch Scary Stuff: When your dog sees a groomer regularly, these professionals will not only be giving your dog a proper wash and grooming session, but are likely to notice health issues and bring them to your attention so you can get them checked before they get out of hand. Grooming is a very 'hands on' job, and your groomer is likely to notice changes in ears, teeth, skin, and other parts of your pup's body that you may not have noticed. Health problems that are caught early on, are more easily and swiftly taken care of. You only see your vet once a year, but your groomer comes every month!

Less Shedding: When your dog sheds less, that is a huge benefit for you. After all, even though you love your pet, it is no fun having to clean up after them. Who wants to be constantly vacuuming all the hair they shed throughout your home? When your furry friend is regularly bathed and groomed, their coat becomes healthier and shinier, thus less susceptible to excess shedding.

Attention to Nails: Part of a routine grooming for your dog includes keeping nails trimmed. More than just cosmetic, untrimmed nails can lead to difficulty walking, poor posture, and even infection. Simply keeping up with nail trims can avoid a host of problems — and expensive treatments.

Maintains a Healthy Coat And Skin: When your dog is regularly bathed, it helps him maintain a glowing, healthy coat of fur and healthy skin. Without proper hygiene, your dog is more likely at risk for mites, parasites, and bacteria. This not only causes them a great deal of grief and irritation, these unwelcome pests can become a problem in your home. Regular bathing and grooming also keeps things likes pests and tape worms away. Both of these things (and the problems mentioned above) can lead to illness for not only your dog, but for you and other members of your household.

It Affects Your Dog's Mental State: Yes, believe it or not, a thorough, bathing and grooming session delivered with love and kindness will affect your dog's mental state for the better, especially if they have been without grooming for a long time. As groomers we have noticed that after the dogs are groomed, they often don't just look like new dog, they act and feel like a new dog too! Dogs tended to be happier after their matted, dirty fur is taken care of and their hygiene is up to par. Grooming is not only necessary, but a real treat for your lovable pet!
Curious about the other benefits of dog grooming or looking for a place to care for your furry friend? Don't hesitate to contact us!