Which dog breeds require the most grooming?
All dog breeds need some grooming, but some are much more high-maintenance than others. While some short-haired dogs can get away with an occasional bath, other breeds need regular pampering to stay healthy & good looking. Let's take a look at some of the common dog breeds that require the most grooming.


Poodles (and poodle hybrids)
Poodle cross-breeds, including labradoodles, goldendoodles and cockapoos, have become hugely popular in recent years. They are wonderful dogs, but require a lot of grooming. Poodles and poodle hybrids shed much less than other dogs, but hairs do become loose and get caught in the dog's coat. Your poodle or labradoodle will need regular brushing to remove these hairs and keep the coat from becoming matted. Poodle coats can be cut into a variety of different styles, but it can take practice to get the shape right. A professional groomer can leave your poodle looking perfectly poofed and pampered.
Old English Sheepdogs
Old English Sheepdogs are lovable dogs with long, beautiful coats. They need regular grooming to keep their hair tangle-free. Use a de-matting comb at least once a week to gently tease apart the hairs. The signature fringe on their face must be kept free from dust and debris to avoid irritation to the dog's sensitive eyes. Trim the hair around the feet to prevent them getting clogged with mud and debris when your dog plays outside.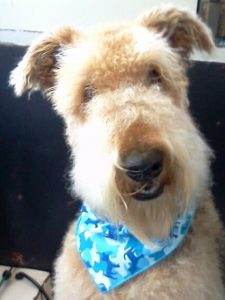 Wheaten Terriers
Wheaten Terriers have soft, medium-long coats. These friendly dogs love to be brushed every day. Or at least they need to be brushed every day. They can be stubborn, and you will need to train them to accept the brushing they so desperately need. The long hair around the Wheaton's muzzle is particularly prone to matting. If your home is blessed with a Wheaton but you don't have time to brush them daily, consult with your groomer about a low maintenance puppy cut that will be easier for you to take care of.
Spaniels
Most Spaniel breeds need to be groomed regularly, with daily brushing to prevent matting. Their coats grow quickly and need to be kept under control. Spaniels (especially cockers) that are kept in full coat will need a lot of work from you in between visits to the groomer. A popular alternative is to clip the pup's body close, leaving a short skirt and keeping just the ears gloriously long and curly. This is a cute look, that is still relatively easy to maintain.
Bichon Frise
A Bichon Frise is a cute curly-haired powder puff of a dog. Their snow white fur shows dirt easily, so you will need to bathe your Bichon Frise frequently, or set up a regular appointment with a professional groomer to keep your pet looking lovely. Regular doggie haircuts are also par for the course when you have a Bichon as a family member.
Maltese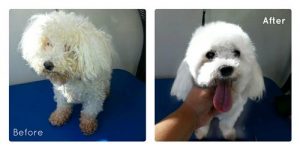 Somewhat similar in appearance to the Bichon Frise, Malteses also need a lot of care and attention to keep them looking their best. Their long coat needs to be bathed and combed regularly, or you can ask your groomer to put them in a puppycut and go a little longer between baths.
Yorkshire Terriers
Yorkshire Terriers, also known as Yorkies, are tiny little fireballs covered with long, silky hair. To keep your Yorkie's coat looking gorgeous, brush it every day and keep it trimmed off the floor so that your dog can walk and run without tripping.
If you own one of these high maintenance breeds, you're either going to be seeing a lot of your professional groomer, or you'll be doing a lot of work yourself. Grooming is a great time to bond with your pet, so we're happy to support you with advice on brushes and shampoos if you want to give it a go. When the time comes that you need professional help, just give us a call. If you wish your "high maintenance" pet required a little less work, your professional groomer can advise on hairstyles that will reduce your workload, and decrease the frequency of professional grooming, while still allowing your pet's personality to shine through!