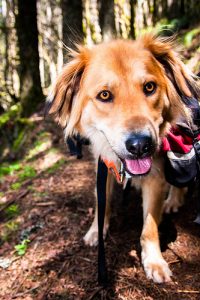 With all the trips to the beach, and trots along the awesome trails, Southern California dogs have lots of fun– and get pretty messy doing it. During the warm summer months, dogs and their owners get out and explore the terrain and come in contact with all sorts things that can become a source of irritation or hazard to their pet. That's why summer grooming is not just about looking fabulous.
During the summer, your dog can come in contact with pests such as fleas and ticks; weeds such as goat heads and fox tails; chemicals, and abrasive surfaces. The extra activity can lead to matting and oily fur. All of these things can lead to problems for their coat and paws. 
To keep your dogs happy, healthy, and looking great, try these summer grooming tips:
Brush your dog's coat daily to get rid of excess fur which can become matted
Check their ears for mites, excessive wax, or stickers
Get a summer trim for appropriate breeds
Increase the number of baths to reduce parasites
Use flea and tick treatment as part of their grooming routine
Keep your dogs nails trimmed properly
Check pads for cracks and cuts. Consider using pad conditioners to keep their paws healthy
Inspect your dog for bites and stickers after time playing outside
Have the dog groomed regularly with a professional. A professional groomer is trained to spot problems and can alert you to something you might have missed
Grooming becomes more important during the summer as you pet is exposed to more potential irritants. Regular grooming can help solve and prevent problems before they become serious and cause greater health risks.
For more information on summer grooming tips for your dog, check out these links:
Tips for Grooming Dogs in Summer l Vetinfo

Summer Grooming Tips l Petroglyphs