If you are like most dog moms or dads, you probably aren't going to send your dog off to the groomers for the first time without having a few of your questions answered first. Asking the right questions is just as important as getting the right answers, so how do you know what to ask (and know what you want to hear) before picking the right dog groomer for your furry friend? In this post, we will take a look at the five most common dog grooming questions people ask before committing to a certain groomer. And when you ask these questions, it will help you determine whether or not you picked the right groomer for your lovable dog.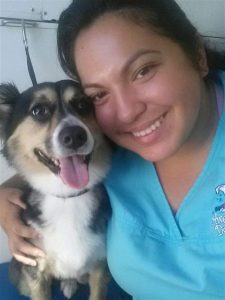 How Will You Soothe my Dog's Anxiety? It isn't uncommon for young puppies and older dogs alike to become anxious at the prospect of being handled by a stranger or by the sound of running water. The best professional groomers are prepared to handle situations in which dogs are easily frightened by certain things, anxious about the situation, or resistant to being handled. And how a groomer deals with these circumstances is very important. Ask the groomers what they do when a dog becomes tense during the rooming process and how they will be able to reduce the stress and anxiety your dog will experience.
What Advice Can You Give me to Make Bath Time Easier? The best dog groomers are always ready and willing to provide their clients with great advice. Although you might take your dog to the groomers as often as possible, there will probably come times when you have to quickly brush your dog's long, matted hair or get them in the tub for a thorough bath after romping in the mud. Ask the groomers how you can make bath time easier and more enjoyable for your dog. The advice you receive and how you receive said advice will tell you a lot about the groomers and whether or not they truly do have you and your dog's best interest in mind. 
Do You Have Experience Grooming my Dog's Breed? Different dog breeds have different kinds of coats and fur and therefore require different grooming methods. You want to be sure that the groomer has experience working with your dog's breed before so that they get the best clean, cut, and other grooming services. 
Will my Dog be Crated? For dog grooming shops that serve a high volume of clients everyday often of necessity will keep your dog in a crate until it is their turn to be groomed. Mobile groomers and a handful of special service shops will handle pets one at a time, start to finish, and therefore will not need to crate your pet for storage or while drying. If you dog isn't crate-trained, being caged can be stressful. And just being crated in the vicinity of other also-anxious pets can send your baby's anxiety levels through the roof. If your pet is fragile, high-strung, elderly or otherwise exhausted by a day at the groomers, consider using a mobile grooming service, which comes to your home, completes the job in about an hour, and does not require crating.

What Kind of Dryer do You Use? Groomers typically use two types of dryers: dryers that circulate air and dryers that add heat. The safer option is the circulating dryers — the air becomes warm as it passes over the dryer motor but no additional heat is added. Dryers that add heat have been known to cause heat strokes in smaller breeds of dogs, particularly in connection with leaving a dryer turned on the pet while they are held in a crate.

Looking for more information? Don't hesitate to contact us today!