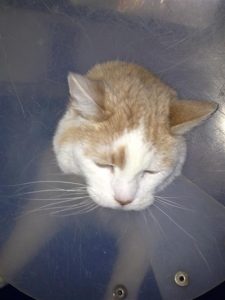 Have you ever reached toward your cat only to have her swipe at you with razor-sharp claws? If your cat is a little  overzealous, or if your skin is especially thin or fragile, you may have more than your share of deep, bloody scratches.  Those surprise kitty attacks can be very unpleasant.
So how do you avoid getting gashes in your hand or arm? Well, that's where you'll need to do a bit of cat grooming. There are three key choices — and, no, declawing your precious princess isn't one of them. You can opt to cap her nails, clip her nails, or just let them naturally remain their normal length. Let's delve into the pros and cons of each one, shall we?
Capping Claws
Rather than cutting your fur-baby's claws perhaps capping them would be better — especially if she likes to scratch up your furniture. Your kitty could look very stylish with all the designs and colors of caps there are to choose from! If you cap her claws, the caps could last 6-8 weeks which means you'll have to trim her nails less often; only once every 7 weeks as opposed to once every 3 weeks without the caps. The caps will slip off as your kitty's claws grow. Another great advantage is that if she's under stress the caps will still let her extend and retract her claws to relieve that stress.
Make sure your cat doesn't go outside with the caps on; if she runs into an aggressive cat or other animal, she can't defend herself. For this same reason, you should cap all of your kitties in your household.
The caps are very easy to apply — it's kind of like putting fake nails on your cat. First, smear the glue on the inside of a cap then put it on her extended claw. It should just take several seconds for the glue to dry, but you'll need to keep the claw extended and her paw still. Once the glue's dry, place the caps on the other claws in the same manner. When the caps are all on, she shouldn't even notice the difference. Yet some cats can be sensitive and won't like the caps, so keep watch over your fur-baby for a few hours to make sure everything's okay.
Clipping Nails
There are many benefits to clipping your kitty's claws. If you keep your feline's claws trimmed, she'll be less likely to painfully break them by getting them caught on your furniture or carpet. Likewise, she can't ruin your favorite chair if her nails are kept short. If your fur-baby is a lap kitty and she likes to knead, those clipped nails won't leave your legs with a bunch of painful scratch marks.
A big drawback to clipping your kitty's nails is that if she's an outdoor cat — or even an indoor/outdoor cat — she may find it difficult to climb trees; plus she's less able to fight off another cat that doesn't have her claws trimmed.
If you don't trim her nails correctly, she could become stressed or even injured, so be careful or have nail trimming done as part of professional grooming. If you're going to do this yourself, be firm but gentle, and make it a pleasant experience. Have a bag of delectable cat treats nearby as you hold your kitty gently on your lap. In your hand, hold one of her paws; gently squeeze the pad until you can see an unsheathed claw. Only clip the end of her claw! Be very careful not to clip down to the quick (pink part) — this is where all the blood vessels and nerves are. (If you clip the quick it will bleed and hurt your beloved cat and you may need to get her to a vet, depending on how badly it's bleeding.) Now, clip the other claws in the same way — and then you just have three more paws to do. If your cat shows signs of stress, stop and finish it later. If you have a multi-cat household, then make a day of it and clip their claws too!
Normal Length Claws
Neither clipping nor capping may be necessary if your four-legged friend uses her scratching post to maintain trimmed nails and isn't shredding your furniture. Just set up a bunch of scratching posts around your home to keep her happy. Of course, if you've tried capping or clipping her nails and she stresses out every time, it might be better to just leave her claws alone.
But many who are owned by cats can curb their bad clawing behavior by training their kitties. Sure, it sounds odd but cats can be trained to scratch in proper places.
It's entirely in your hands what you decide to do about her claws. You may discover that your kitty is one that's sensitive or anxious; in this case the decision to let her nails grow is a good one. If this is your choice, keep a watchful eye on your fur-baby to ensure her claws don't become ingrown or snag on anything that'll cause them to break off. Capping or clipping isn't a problem and works well for most felines. Please contact us if you'd like us to clip your cherished cat's nails — we'll treat her just like the princess that she is!