Ever wondered how can you trim a cat's claws without getting a face full of nail in the process? Some cats are calm and cool but others are sassy, and if you're a new cat owner, you might just be a little intimidated by the whole idea of trimming a kitty's nails. Here's some info that might help…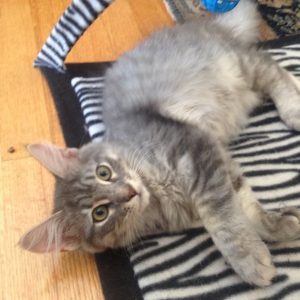 Choosing The Right Tools
People prefer all types of trimming cools and finding the one that works for your needs requires a little experimentation. Go to your local pet care shop and ask about cat trimming tools.
There are many that are specifically designed for the unique shape of a cat's claw. While you can use a human nail trimmer or even a pair of scissors in a pinch, it's probably best to use a special pair of cutters.
One type that you're likely to see a lot of is the "falling blade" type that looks something like a guillotine.
These are among the easiest and most precise to use because they cut the nail at an even angle and avoid sharp edges on the nail.
Holding Your Cat's Paw
Here comes the hardest part: grabbing and holding the paw while you trim their nails. This all depends on the temperament of your cat. Friendly and trusting cats will allow you to grab their paw without much fuss. However, anxious cats may react aggressively against it.
So what can do you do in this situation? Try to get your cat on your lap and feeling nice and comfortable. Petting them should put them in a good mood and may calm their nerves.
A small dose of cat nip can also help in this situation and serve as a reward for good behavior. Eventually they will associate cat nip with getting their claws trimmed and won't mind so much.
Trimming Properly
Once your cat is happy and comfortable in your lap, take your trimmer and carefully position their paw in your other hand. Gently press down on the paw right behind the claw you want to trim.
This gentle pressure will cause the claw to pop out. Once its out, place the tip of the nail in your cutting device and snip it. When you're placing your cutting device on the nail, watch for the small pink part underneath the nail.
This is a sensitive area that is filled with nerve endings and blood vessels. Cutting here will cause injury to your cat's paw and make it to bleed. Keep your trimmer far away from this part of the nail to avoid injury.
Once you have clipped the claw, relax the pressure, let the claw retract, and pet your cat for a few seconds. Gauge their reaction: did they notice you cutting their nail? If they didn't, repeat this process with the claw right next to it. Continue trimming until you finish the paw and move on to the next one.
If your cat is agitated or struggling against you, just let them go. That kind of agitation will annoy them and continuing to hold them will cause them to lash out at you and scratch. Try again another day when they've calmed down or take them to a professional if you can't handle it on your own.
Following this simple procedure will give you the chance to trim your cat's nails from the comfort of your home. Building trust and love between you and your feline friend is crucial to trimming their nails without a problem.
If you are interested in having your cat's nails trimmed as part of a professional grooming, please contact us today. We'll be happy to help keep your cat clean and pretty — our job is to make it easy on everyone involved!