There are plenty of dog shampoos on the market, so how do you know what's best for your pet? The right choice of dog shampoo depends on the characteristics of your dog's skin and coat. Follow this guide to the different types of dog shampoos to help make the right choice for your pet.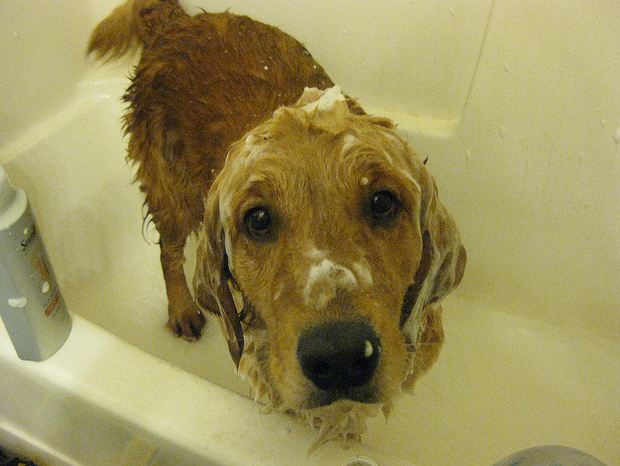 Dog shampoos contain ingredients that remove dirt from your dog's coat, rehydrate the hair, and soothe and moisturize the dog's skin. Dog shampoos are designed to easily work up a lather that can be used to clean your dog's coat before rinsing with warm water to carry away the dirt and debris.

 As professional dog groomers, we like to use the highest quality all-natural pet shampoos. If you are reluctant to expose your dogs to the artificial ingredients and lab-manufactured chemicals present in most pet shampoos, then natural shampoos are a good way to go. In our mobile grooming salons, we stock a dozen different varieties of an all-natural brand called Nature's Specialties, that we've loved and used for years.
 Natural shampoos use plant-derived ingredients such as lavender, yucca, tea tree oil (a natural antibacterial agent), oatmeal, and soothing chamomile. When you choose a natural shampoo, you can rest assured that none of the ingredients can harm your dog, as they are all found in the natural environment that your dog was designed to inhabit.
 Oatmeal shampoos are the perfect choice for dogs that are prone to dry and itchy skin. Oats naturally contain proteins that deeply moisturize the skin to give your dog relief from itching and discomfort. The fine texture of oatmeal shampoos helps to slough away dead skin cells to leave your dog with a shiny and manageable coat.
 If oatmeal shampoo fails to stop your dog from scratching, the problem could be due to fleas. Don't panic if you find fleas on your dog: there are natural flea shampoos that can effectively clear up the infestation. See our post on cleaning up a dog with fleas for more information.
 If your dog has an allergic reaction to any shampoo, stop using it immediately and switch to a hypoallergenic brand. Symptoms of an allergic reaction can include swelling or itching after using the shampoo on your dog. Hypoallergenic dog shampoos are usually unscented and don't include ingredients that are known to cause allergic reactions in some dogs.
 Choosing the right dog shampoo can be tricky. If you use a professional dog groomer, discuss with them what options are most appropriate for your dog's skin and coat type. Be sure to stick with shampoos formulated specifically for dogs. Human shampoo and dog shampoo have different pH levels, because the chemistry of your pooch's skin is quite different from your own.
Wondering how often you can wash your dog?  Check out our post on that subject here.