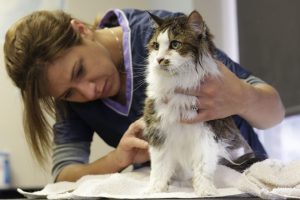 Why should you schedule a San Diego mobile cat grooming? You have seen your fastidious feline spend hours primping and preening and have probably thought they have the whole grooming thing under control. For the most part, you're right. Cats do a great job of keeping up with themselves, but they still need a little help from their friends.

You might be surprised to know that cats benefit from regular professional grooming in many ways, including:
Brushing distributes the natural oils to keep coats healthy
Grooming puts another set of skilled eyes on your cat who can spot problems like fleas, ticks, skin problems or abnormalities, and ear problems
Grooming removes excess fur that would otherwise end up in your cat's sensitive stomach
Regular grooming prevents problems like matting, which can be very painful and cause damage to your cat's sensitive skin.
Our Tender Loving Groom (TLG) for Cats
Most cats want their humans to know that traveling to and home from a grooming is actually one of the most traumatic aspects of getting groomed. And contrary to popular belief, most cats tolerate being bathed very well when all of the elements are right. Our mobile cat grooming service comes highly recommended by cats all over San Diego because we "get it". Our TLG for cats is catered specifically to their needs so the groom is as quick and comfortable as possible. In fact, most cats even come to like the grooming!
What to Expect from Awesome Doggies Mobile Cat Grooming in San Diego
Of course, without a traumatic car ride to tip them off, your kitty remains as calm, cool, and collected as possible when we roll up. Your cat's comfort is our number one concern, so we go the extra mile to make our mobile pet salon is a calm and nurturing atmosphere and the process gentle.

Out TLG includes bathing, brushing, cleaning the eyes and ears, and trimming the paws. We gently wipe down your kitty's face with a damp cloth and the body, legs, and tail are thoroughly shampooed. We hand blow dry, or towel dry if your kitty prefers. We never use cage dryers. When it is all done, we return them to you so they can show off their new spiffy look.
Hair Cutting and Deshedding
If your cat needs a haircut, we do all sorts of kinds of haircutting on cats, including lioncuts, and chenille clips among many others. Long and medium hair cats often have problems with hairballs, so it is wise to keep the fur clipped and to have them de-shed regularly.

Getting your cat groomed regularly is better for kitty and their family by reducing allergens. Most importantly, regular grooming helps keep that precious fur baby in the best health possible. If you have questions about mobile cat grooming in San Diego, or wonder if your cat can tolerate a grooming, please contact us today. We are happy to answer your questions.