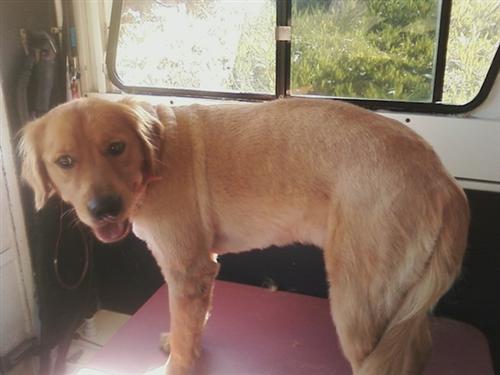 The summer is the number one time of year to enjoy backyard and park adventures with your dog. The hot sun and the empty hours come together to make the perfect environment for relaxed games of fetch, energetic frisbee chasing, and jumping through sprinklers with the kids. However, summer also comes with a whole new set of grooming concerns. Especially for medium and long-haired dog. In the cooler months you may have enjoyed staying inside together sharing couch blankets and table scraps, but summer is a time for action and adventure which means it's time to get your dog into their action coat.
Just like children put on shorts and t-shirts to play outside, one of the kindest things you can do for your shaggy dog is to trim their fur short during the most active months of the year. Here are our top five reasons why:
1) Belly Burrs
People and pets aren't the only living things that get more active during the summer. Plants spring back into action as well and as the hot summer sun dries out the seed pods and burrs in the grass and shrubs, these little plant bits can get caught in shaggy belly fur or tender paw pads (between the toes – yikes!) and come along for a ride. A quick trim of their shaggy chest, belly, and tail can make all the difference between freedom to romp in the grass and a belly covered in burrs.
2) Play Time Tangles
Another problem, particularly for long-haired dogs, is that all that shaggy fur doesn't exactly keep itself brushed when they're tugging at rope toys and rolling around in dust piles. As we all know, hair that whips around in the wind, catches on sticks, and rolls on the ground is almost guaranteed to develop tangles and some of those tangles will be remarkably uncomfortable to brush out. Chances are you'll wind up clipping a few bad tangles anyway so a preemptive trim is a great way to keep your dog's coat looking even and avoid the agitation of play time tangles.
3) Ear Mats
Speaking of tangles that need to be clipped, many shaggier breeds aren't just shaggy in places where it's cute. They may also have paw and ear tufts that get matted, tangled, and uncomfortably heavy or thick to carry around. If your dog is of a breed or mix of breeds that suffer from ear mats or paw clumps, an experienced groomer can include these issues in their monthly trim to keep your dog comfortable without all that excess fur getting in the way.
4) Summer Sunshine
Let's face it, the only thing in California more notorious than the sun is the movie industry. It gets hot here in the summer and, unfortunately, dogs don't sweat. That's why they pant, but panting can only get them so far. Longer haired breeds of dogs are likely to originate from colder places where thick fur is necessary to stay comfortable. While they may have been able to grow shaggy over the winter, too much fur can cause your dog to needlessly overheat. A stylish trim of the undercoat and extra shag is the perfect solution to a hot puppy.
5) Easy Grooming
Finally, summer adventures and play time means that your dog is also likely to need a lot more baths than they did over the winter. Indoor/outdoor dogs, in particular, will need to make that transition often whether you wash them in the tub, call the mobile grooming salon, or just spray off the mud quickly with a hose. Getting your shaggy dog a trim will make it a lot easier to wash them both thoroughly and quickly when the time comes because there will be much less fur to wash, comb, and check for burs.
Dogs and people have shared happy summers together for thousands of years and there's no need to break that tradition this time. If your dog is just a little too shaggy (or a lot too shaggy) to fully enjoy summertime with you and your family, a quick trim could be the best answer for everyone. For more information or to call the local groomers to your house soon, give us a buzz. We're ready and waiting to provide all your dog grooming needs where and when you need them!