Whether or not you go all-out for obedience training, every dog owner needs to teach their furry friend at least some basic manners. How best to go about this oh-so-necessary task?  You may have used correction in th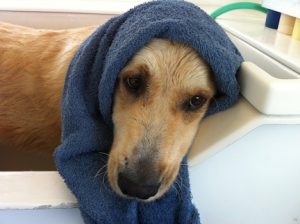 e past, or a combination of correction & positive reinforcement. We're advocates of the kinder, gentler (and more effective) positive reinforcement technique.
 Correction is Based on Fear
Correction consists of punishing (in the form of choke collars, squirt bottles, spanks, or even just yelling "no") when your dog does something you don't like. Correction comes to us naturally (yelling at your kids is a form of correction), but it's not the most effective way to train your pet. Dogs may obey out of fear, or to avoid the negative consequence. But in the process, they associate their owners with the punishments they receive, and this can create a relationship of mistrust. It may also prevent your dog from completely absorbing their training.
Positive Reinforcement is Based on Pleasure
Dogs are very much like human beings, and they love being rewarded for a job well done. Once they see that their good behavior allows them a delicious treat or a loving hug, they naturally want to repeat the behavior in order to benefit from the pleasurable rewards. This is the basis of positive reinforcement training, which research shows yields lasting benefits and creates a trusting and loving relationship between dog and owner.
 Some Basics to Get You Started
Use short commands followed by a reward. Keep in mind that timing is of the essence. A reward should be given within seconds after your pet performs the desired action, as this allows them to connect their specific behavior with a reward. Depending on what your dog values most, the best reward may be a favorite treat, or simply some affectionate patting and a "good dog". To properly motivate your pooch, pick a reward that your dog considers highly desirable!
 Although you may swear your dog understands English, keep your language very simple when training. Your dog will easily remember short phrases (one or two words) that are used consistently, and when they figure out that a treat is waiting for them, they will happily and quickly obey.
We think teaching doggie manners with treats and love is a great way to get the behavior you want from your dog. As professional dog groomers, we can tell you that well trained pets are not only easier to work with, but they are also calmer and much less stressed during the grooming process than their unruly compatriots. Do your dog a favor and teach them how to behave….with kindness.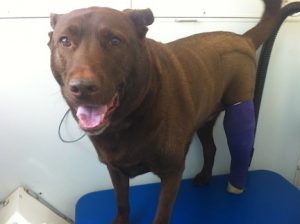 For more information on positive reinforcement training, here's one of our favorite dog trainers in San Diego:
Linda Michaels MA, Victoria Stilwell Positively Dog Training
Meeting All Training Needs–All Positively. Private and Customized. 858.259.9663    LindaPositively@gmail.com
http://www.dogpsychologistoncall.com/  
 More resources on positive reinforcement dog training:
 Victoria Stilwell: http://Positively.com
 Dr. Patricia McConnell: http://www.patriciamcconnell.com/
 Dr. Ian Dunbar: http://www.siriuspup.com/about_founder.html
 Pat Miller: http://www.peaceablepaws.com/
 Dr. Sophia Yin: http://drsophiayin.com/