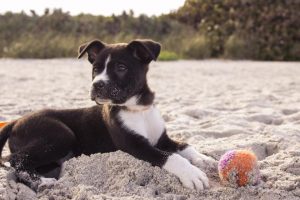 If there is one thing we know here atAwesome Doggies Mobile Pet Salon it is that puppies bring their pet parents lots of joy. We also know that puppies can bring their pet parents a lot of consternation when it comes to nipping and biting.
As puppies mature, they start to teethe and need to chew to help soothe their sore mouth as well as help the new teeth break the surface. Puppies also use their mouths to explore their world. In play, a puppy may "mouth" humans, biting hands or nipping at moving legs and feet. As innocent as their chewing may be, those tiny razor like teeth can cause a lot of damage.
Nipping and biting is a natural part of puppyhood, but can become a bad habit if not corrected early. Here are some important tips for training your puppy to stop biting and nipping.
Prevention and Deterrence
First, it is important to provide as many ways as possible to prevent the puppy from biting and nipping in the first place.

Always use a toy to play with the puppy rather than using your hand as a toy
Provide plenty of chew toys
Make sure your puppy gets plenty of exercise (around an hour per day)
Use taste deterrents on your hands to make them taste unpleasant. Vinegar and bitter apple work well and will not harm your puppy. There are also commercial sprays to use on anything you do not want your dog to bite, such as shoes, clothing, and furniture.
Active Training
Puppies are not baby humans and usually learn how not to bite too forcefully from their pack mates. In the wild, dogs live in communities that correct their pack mates with increasing levels of firmness. Effective training will be in a language the puppy understands and simulate the training they would receive in the wild.

When the puppy bites your hand, pull back and make a yelping noise or say "no!" firmly, and let the hand go limp. Refrain from playing with the puppy for several minutes
If the puppy bites more aggressively or more forcefully, take your hand away and use your fingers to "bite" the puppy's side (meant to startle and correct, not to hurt)
Be consistent with your correction
When your puppy responds to the "No!" command, give them a treat and reward them with positive attention
If your puppy's biting or nipping continues, seeking the help of a certified trainer could be very helpful. It is also important to seek the advice of a trusted veterinarian who can detect or rule out any medical conditions that could be causing your treasured friend to bite. Any dog at any age can be taught how not to mouth, bite, and nip, but training early as a puppy has advantages. Training your pup helps him feel secure in his new pack (your family) while also minimizing the problems that come with puppyhood.
 Feel free to contact us with questions and to set up your mobile pet grooming appointment today!
Why Dog Bites Happen and How to Stop Dog Biting l Cesar's Way
Nipping Nipping in the Bud l Cesar's Way
How to Teach Your Puppy Not to Bite l Doggone Safe