This week I'm super excited to introduce Allison Shamrell, professional pet photographer. You may have seen her work hanging in your vet's office or favorite pet supply store. Or you may have stopped by her booth at a local festival, or seen her snapping photos at one of San Diego's many doggie events. This lady goes everywhere! If you've seen her pictures, you're sure to remember them — her work is marvelous. I'm so happy to give her space on our blog this week to share some photography tips (and photos of course). Here's hoping some of her magic rubs off on us. I know my Facebook pictures could use some work!

Allison's Top 5 Tips for Taking Better Photos of Your Dogs 
Guest Post by Allison Shamrell, Professional Pet Photographer
1

. Get on their level!

Whether you're photographing a dachshund or a great dane, it's always fun to try out new points of view – and the most interesting perspective is often at your pet's eye level! I frequently find myself laying on the ground during photo sessions. It makes the photos that much more engaging, since it's an angle you don't typically see. So don't stand around & be lazy – get on the ground & have fun!
2. Take your time.
Don't expect to get that frame-worthy photo after just 30 seconds of trying. All of my sessions are at least an hour long, because it simply takes time for pets to strike a cute pose or show me the facial expression I'm looking for. Sometimes you have to wait until your pup wears himself out & calms down, too – you just can't rush it! If your dog knows a few commands (like sit & stay) that definitely helps, but even the most disobedient dog can take the cutest photos if you're patient with him.
3. 

Break out the treats!

You don't work for free, do you? Reward your dog for good behavior! I always have treats in my pocket or in my camera bag when I'm shooting, and I'm generous with them so my clients' dogs will want to play with me & do what I ask. The same applies to toys for play-motivated dogs; make it a fun experience and your dog will love whenever the camera comes out! (Squeaker toys make for great attention-getters, too – when used sparingly!)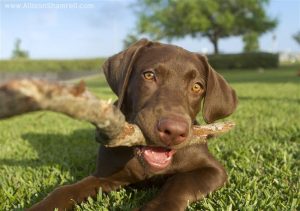 4. 

Look for the right light.

Going outside is generally the best thing you can do to take better photos. Natural light (especially around sunrise & sunset) is fabulous whether you're in the shade or the sun. Open shade has a nice softness to it, and gets rid of distracting shadows, too. If you can't go outside, try shooting near a big window. I definitely don't recommend using your camera's flash; it creates "alien eyes" and is generally harsh & un-flattering, for people & pets alike. Disable the flash, find the best natural light source possible, and your photos will show a big difference!
5.

 

 Let your dog be a dog!
You may want a photo of your dog sitting nicely & looking at the camera, but their plans might involve digging a new hole in the backyard & running around with their new toy! That's okay – be ready to capture your dog as he naturally is! Dogs have pretty short attentions spans, so it's okay to play around for a bit (see Tip #2) and ask for the photos that involve obedience between throws of the tennis ball. Plus – running & digging photos can be pretty cute, too! If that's what your dog really loves to do, why not show it off in pictures?
Extra Tip: Make sure your dog is feeling & looking his best!
During my sessions, the dog's comfort & safety is always my top priority. I make sure my subjects are relaxed & happy before we ever start photographing – and that process can start days before our photo session! I actually recommend to all my clients that they get their dogs professionally groomed 2-3 days before I bring out a camera. Dogs always look their best afterwards, and a good groomer will make sure their fur looks perfect for their day in the spotlight. It's definitely a good idea, whether you're hiring a professional or taking the photos yourself!
Thanks for the tips, Allison!  

If you'd like to get to know Allison and see more of her work, check out these links: 

http://www.pinterest.com/allisonshamrell/
https://www.facebook.com/allisonshamrellphotography 
http://www.allisonshamrell.com/