have a serious reputation for being one of the most fastidious animals around. Unfortunately, it isn't always the case with many of our favorite fluffy divas. While some cats spend half of their waking hours grooming themselves, others just don't seem to care. Sometimes a cat that once groomed itself daily suddenly stops, much to the concern of the pet parent.

Trust us when we say that cats are all over the grooming continuum. In our daily journey as a San Diego mobile pet groomer, we see them all—from the most pristinely preened to the greatly grimy— and each of them is super in their own way. If you cat does not fit into the fastidious category, don't fret. Grooming doesn't always come naturally to some cats or there may be a reason they are just not getting the job done. Whichever is the case, we're here to help solve the mystery and provide some solutions.
Common Reasons for Grooming Fails
Believe it or not, some cats just do not learn to groom properly as a kitten, so they never become that effective at it as grown cats. Another common reason cats fail to groom are because of physical problems that prevent or hinder the grooming process. If the cat is overweight, has painful joints or back problems, or is sick or old, they may be unable to move well enough to groom effectively. There may also be emotional reasons for not grooming such as being depressed, lonely, or bored. Finally, long haired cats may have difficulty keeping up with grooming (After all, looking that good does not come easy!)
Proper Grooming is Important to Feline Health
If your cat does not groom or does not groom regularly, it is important to rule out any medical conditions first by taking him or her to see the veterinarian. A lack of grooming is not something to be taken lightly as it can indicate illness. It is also an important part of staying healthy because proper cleaning removes parasites that can cause allergies and skin irritations. Proper and regular grooming also helps prevent hairballs. Yep; proper grooming is a very big deal.
How You Can Help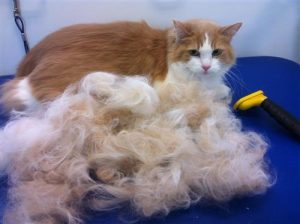 When your cat can't or won't groom, it is vital that the pet parent provide that care for them. Here are some tips for helping your cat stay well-groomed:

Learn about and provide proper skin and fur care.
Use shampoos conditioners, and tools that are appropriate for your cat's coat and skin type.

Brush and de-shed regularly.
Keep the paws trip and clean.
Keep the fur around sanitation area clean and trimmed to prevent blockage or bacterial growth.
Check ears regularly for signs of mites, infection, dirt, and wax build up.
Use a cleaning solution to keep teeth clean and healthy.
When Home Grooming is not a Feasible Solution
Grooming your cat can take a lot of time, and not every cat is agreeable to the process. For some cats, the best solution is to call in a professional groomer who deals with cats of all types, even those with special needs such as being medically fragile or especially frightened. Mobile pet groomers come to your location and provide grooming in a safe environment, specially tailored to your cat's needs. When it is done, the cat is returned to the comfort of home with minimal stress.

At Awesome Doggies, we not only take the stress out of grooming for your cat, we make the process stress-free for the pet parent, too! We come in at the scheduled time, and because our time is totally devoted to you we get the job done well and efficiently.Contact us to schedule your mobile pet grooming appointment today!