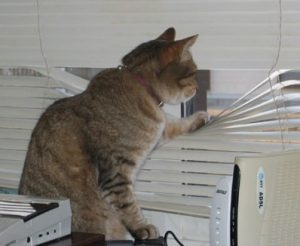 Everyone knows that animals are made to be outside — that's why Mother Nature gave them fur, right? However, there is quite a lot to be said for keeping your cat indoors, instead of letting him free to roam the outdoors world. Cats actually took up residence indoors with humans in Egypt around 2500 B.C., which is when the controversy first began about whether a cat should be kept indoors with the family or outdoors with the other animals…and it has been raging ever since.
Many pet owners believe that they should let their cats wander the world the same way that their ancestors did before them. But believe it or not, experts now believe you should keep your cat inside where it is safest. The choice of course is up to the pet owner but here are some facts you may want to think about before making your decision.
Myths:
A cat's natural environment is outside: This is not true. Cats have evolved to the point that inside is their natural environment. Their ancestors were brought in from the cold centuries ago.
Not letting a cat be outside is cruel: Again, not true. Cats do like the outdoors of course, but many cats are frightened of being outside. Your cat can be just as content and satisfied indoors as they can outdoors, with the right toys.
The Facts:
Indoor cats live on average for 12 to 20 years; Outdoor cats live on average for one to five years.

Indoor cats require extra playtime with their owners so that they do get the experience of following their natural instincts.

Outdoor cats get to explore the wild, but are at greater risk for getting diseases and dying from interactions with other animals. The coyotes that live in our canyons think cats are quite tasty.

Indoor cats require litter boxes (ick).


Outdoor cats use the bathroom in the neighbor's yard, tear up their gardens, and kill small animals.
No matter how you feel about keeping your cat indoors or outdoors, the debate will rage on in some quarters. From my standpoint, living near a canyon, and hearing about all the kitty "disappearances" from San Diego neighborhoods, I prefer to give cats a view to the outdoors, but keep them always indoors where their lives are safe & secure. They seem plenty happy with that. Which side of the litter box do you land on?