Most people just want their furry family members to look clean, and smell good. But some folks go beyond that — far, far beyond that, into what I call "the Far Side" of pet grooming. Today we thought we'd take a look at a few peculiar trends in pet grooming that you may not know you've been missing. From multicolored poodles to a full body mohawk on a dog, pet owners have tried them all, and while some styles are adorable, a few are just totally out there.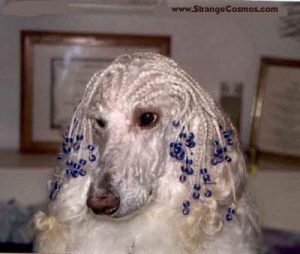 Braiding your dog's hair is a modern trend that most little girls will love. No longer do they have to practice on their dolls, because all they have to do is reach out to the family dog and their yen to fuss with hair can be satisfied. Poor pups, the little girls will go wild with this one. Can we expect undying loyalty and absolute stillness from your pet while our daughters practice their skills? You tell me!
And how about this one: feline ink. The trend hasn't moved outside of Russia yet, but is currently all the rage in Moscow. Hairless kitty tattoos are becoming popular there. Do we dare hope that they never make it to America? Somehow tattooing a kitty cat doesn't seem like the best idea to me. The cats have to go under anesthesia for the procedure. It's controversial. 
A little closer to home, you may have caught a glimpse of a canine trend that is catching on in Hollywood. A full body mohawk on a pooch is sometimes seen as a reason for hilarity, while others just think it's fun, adventurous, or an expression of individuality. While most of us wouldn't be caught dead having our pooches groomed to look like a celebrity dog, this look is becoming more common among the masses. It's not a look that would work on my cockapoo, but hey, to each his own right? A few of "our" dogs here in San Diego get a mohawk. It works quite well on Chows and Pomeranians in particular.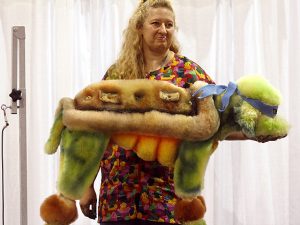 I think I'll vote for Standard Poodles as the breed "most likely" to be on the receiving end of what I call "Far Side grooming." Standard Poodles can be clipped and colored to look like camels, pandas, peacocks, ponies, buffaloes, and more. It really is amazing (in a looking-at-a-car-wreck kind of way) what can be done with dog hair, clippers, and dye. Do you recognize Leonardo from the Teenage Mutant Ninja Turtles? 
At Awesome Doggies, we don't do this type of "creative" grooming but clearly there are some folks who really enjoy seeing their pets transformed into an attention-grabbing showpiece. We'd rather have family-friendly pets that can sit on our laps and play ball, without having to worry about messing up their fancy hairdo. What do you think?