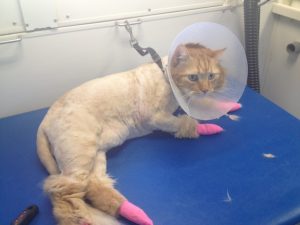 Many pet owners don't realize that dental care for your cat is just as important as dental care for yourself. Cats can get toothaches, sores, rotting teeth, and gum disease, just like we do. Unlike humans however, a cat can't tell you where it hurts, so you need to make sure that you are looking out for your cat's dental needs. Not only does your feline pet need regular dental check-ups at the vet, but home dental care is important as well. Here are some tips for home dental care to keep your kitty safe and happy.  
Make sure you examine your cat's teeth on a regular basis. The best way to do this is by getting your cat into your lap and gently lifting their top lip to check their teeth and gums. Causes for concern would be bad breath, a reddish brownish crust on their gums, or gums that are red and swollen. These are signs of tooth decay and need to be taken care of right away. 
It is recommended by the AAHA that you brush your cat's teeth every day. To start with, you can use the tuna fish water trick. This trick is where you put tuna fish water on your finger and rub it on the cat's gums. Once your pet gets used to the tuna fish-flavored experience, then you can move to putting gauze on your finger, then to a cat toothpaste and toothbrush. These items can be found at any pet store. 
There are also dental snacks you can give your cat that will help to ward off tartar and tooth decay. Hard kibbles are also good for removing plaque and tartar from a cats teeth. You do need to remember that wet cat food doesn't remove the plaque or tartar. This isn't to say that you have to switch to only hard kibble, just keep a little dish around for the cat to munch on. Make sure that you take your cat to the vet for a dental examination at least once a year. The vet will let you know if any unseen tooth decay needs to be taken care of.