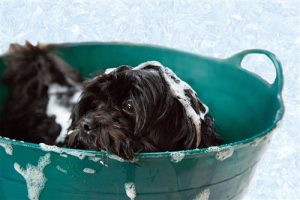 There's nothing more special than cuddling with your fur baby, maybe even letting him or her hop up on the couch or the bed with you for a close snuggle. But when your little one smells more like the outdoors than you're comfortable with, it may be time to wash him. It's a fact that dogs can easily get dirty, and you'll want to regularly clean them for the house and their own health. But dogs have specific needs for cleaning, and certain breeds, due to the differences in their coats and skin, need different stretches of time between washing. Check out our tips below for your how-to guide on washing your dog.
Don't wash your dog too much, but tailor timing to their coat:
You want to avoid over-washing your dog, as too-frequent baths can result in stripping your dog's coat of its natural oils and drying out their skin. A general average time length is once per month to wash your dog. However, this can vary widely. The ASPCA recommends one to three months for a dog wash, in fact.
Many dogs with short-haired coats and also dogs with water-repellent coats can be bathed less frequently, as they won't collect dirt easily and won't need washing as much. These types of dogs include Boston Terriers, Basenjis, Weimaraners, Boxers, Dalmatians, Golden Retrievers, and more. Keep an eye on your dogs to see when they seem overly smelly or dirty, but consider the once-a-month schedule for these types.
On the other hand, dogs with oily coats, like Alaskan Malamutes, Basset Hounds, Newfoundlands, or dogs with oily skin, will benefit from more frequent bathing, possibly up to one time per week.
Treat your dog carefully during a wash:
Take precautions to get the most out of your dog wash and to make the experience great for your fur baby by following some simple dog-specific tips. First, if your dog has long hair, brush it before the bath to rid him or her of excess fur, clumps, and dirt and to make the cleansing more efficient. Ensure that the bath is comfortable for your dog by waiting to begin until your pet is calm, and by encouraging him or her as you go through the process. Keep water at a low level of warmth to avoid overheating your pet or scalding the skin.
During the bath itself, consider using a hose or pitcher to wet your dog's fur, so you don't accidentally pour water in his eyes, ears, or nose. It can be very important to protect your little one's head from the soap you use, too, so it doesn't get into eyes or ears; ensure that you or your groomer plan to avoid the face during the bath. If you have a dog with face wrinkles, like a Pug or Shar Pei, follow up by wiping their wrinkles with a wet cloth gently and thoroughly.
After the bath, let your dog's coat air dry if you can, or use a towel rather than any heat, as dogs' skin can be sensitive to the hot air. And lastly, if your little one was good, congratulate her for being a clean and wonderful little pet!
Be sure to use the right kind of shampoo:
Use a dog shampoo, rather than a shampoo made for humans. This is because humans and dogs have different skin; using a human shampoo will introduce extra acidity to your dog and could upset the balance of his or her skin. A dog shampoo formulated for your little one will treat them right. In addition, you can find uniquely created and specialized shampoos to help treat specific skin problems if your dog suffers from one.
For more information on the best dog-washing techniques, or to discuss Awesome Doggies'mobile grooming services, don't hesitate tocontact us today!