San Diego is the epitome of an outdoor activity city; its great weather and pet-friendly destinations let pet parents share fun times with their fur babies at all kinds of interesting places. Let's take a look at seven fun things you can do with your dog in San Diego.

1. The Spanish Village Art Center is San Diego's largest artist community and so totally dog-friendly, its website features a blog by Bella the Dog, which talks about the different special events at the center from Bella's perspective. Located in the heart of Balboa Park, you and your pup can enjoy browsing over 200 works of art and even watch more than 30 artists working on their masterpieces. Multi-colored cobblestones, flowing flowers and a welcoming atmosphere will create a day for you and your best buddy to remember.
2. The legendary Hotel del Coronado isn't just dog-friendly, it's pet-friendly, welcoming felines right along with canines. Their Del Dogs and Cats Program includes a long list of indulgences for your fur baby, including: a gourmet room service dine-in menu; specialty services from pet sitting, walking, and grooming to vet services; placemats and bowls; cat scratching pads; treats made by Pastry Chef Daphne; bedding; and even Bark Brunches and a Yappy Hour on the deck, plus lots more.
3. How about treating your pup to a day out on the water? Seaforth Boat Rentals lets you give your fur baby a new experience – you can rent a power boat up to 24 feet for an exhilarating offshore adventure or a sailboat up to 27 feet where you can both relax and take in the scenery.
4. Balboa Park is an incredible place filled with museums, gardens and so much more. But they're also known for their three dog-friendly parks, each a bit different from the other: 

Grape Street Dog Park, in South Park's quiet residential neighborhood, is the biggest dog park in Balboa Park. Your dog can romp to its heart's content across five acres of open space; there are even a couple of dog water fountains they can cool off with.

Morley Field Dog Park is an off-leash grassy park with some shady areas and convenient access to the Florida Canyon Nature Trails, where you can explore lots of different environments and scenic vistas with your dog on-leash.

Nate's Point is a fenced-in off-leash park that's a little over two acres in size. There are drinking fountains for pups and picnic tables for you.

5. Dog beaches give you and your pooch the best of both worlds – surf and turf. They can run freely off-leash on some beaches, making new friends with other pups and dipping their paws in the water to cool off. There are over two dozen dog-friendly beaches – to choose the one that's best suited for your pup and find out about any regulations (off-leash vs on-leash), check out the San Diego Dog Beaches and Parks website.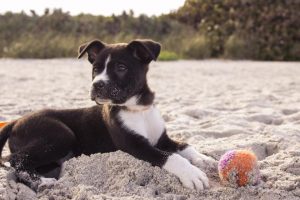 6. Westfield UTC is an amazing shopping center that's entirely pet-friendly, letting you bring your best friend shopping with you. They offer everything from ambassador services and a Little Free Library to dining and special events, and if that's not enough, they're so pet-friendly that they even have a dog park called Bark Park, where you can let your buddy run free.
7. Enjoy a relaxing experience at The Wine Pub, where you can savor a luscious meal paired with a craft beer or wine and your fur baby can choose his or her favorite offering from the doggie menu. The restaurant has a special enclosed outdoor patio just for pet parents and their pups, and on Thursday and Friday evenings, you can both enjoy live music outdoors. Maybe you'll even meet the pub's "Official Wine Pub Pooches", Frankie and Lulu!

After your fabulous day out, contact us to give your fur baby a pampered grooming while you relax in the comfort of your own home. He or she will feel refreshed and ready for your next new adventure!