There are many reasons to consider getting your dog's fur cut and styled. Not only does it make the dog look and feel great, it makes it much easier to maintain between professional groomings. Well-groomed coats also help the dog stay healthier as dirt and parasites can collect in long or unkempt fur. Of course, a great cut is fun way to express their unique personality, too.
If you are looking for a new do for your dapper or diva dog, here are six popular dog grooming cuts and styles our San Diegomobile grooming clients ask for most often.
The Puppy Cut
While called the Puppy Cut, dogs of all ages can sport this great style. The cut is popular for young or active dogs because it gives the dog short gentle layers along the sides, legs, and paws with rounded layers around the face. This is an ideal cut for small breed dogs like Maltese and Shih Tzu.

The Teddy Bear Cut
If you have a medium to long hair dog, the Teddy Bear cut may be a great option. This cut leaves one to two inches of fur around the entire body, exposing the soft undercoat, from where this cut get its name.
The Poodle Cut
With many amazing and popular variations, the Poodle Cut is one of the most recognizable cuts around. Though most used for poodles, it can be used for other dogs with thick curly fur as well.
The Schnauzer Cut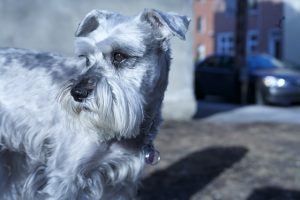 This cut leaves fur longer on the legs while trimming the back and sides very close to the body. While called the Schnauzer Cut, this style is not only for Schnauzers. In fact, it is appropriate for other dog types with similar fur characteristics.
The Lamb Cut
Though most popular for poodles, the Lamb Cut is a great cut for any dog with curl to their hair. The cut leaves the fur on the body and neck very short and longer hair on the legs and face is trimmed to fluffy perfection. The end result is so sweet that it can mask even the most mischievous nature.
Lion Cut
Maybe your pup is king of the jungle. In that case, perhaps the Lion Cut is just what they need. This cut is best for dogs that have full straight hair around the face, like Chows, Pomeranians, and Collies. The cut leaves the face full and fluffy while the rest of the body is shaved tight to the body.

It is always important to discuss dog hair cut styles with your groomer. The outcome of the cut many vary based on your dog's specific fur type and breed and some cuts are breed specific. Your groomer is always happy to discuss your options and make recommendations about which cuts will have the best results for your fur baby. To schedule an appointment for your pup, or if you have any questions, contact us at Awesome Doggies Mobile Pet Grooming today!