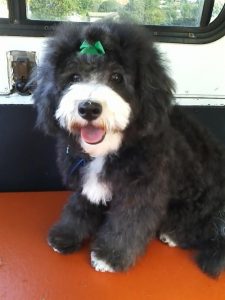 It's time for your dog to get a bath again. If you're a dog owner in the greater San Diego area and you're finding it hard to fit your dog's grooming appointments into your busy schedule, there's an alternative to dragging your fur baby to a brick and mortar building. When it comes to mobile dog grooming, you'll want only the best for your pup. Here are some things that the top mobile dog grooming services have to offer.
Pick a mobile dog grooming service that offers you convenience. You won't have to worry about putting your dog into a crate or carrier. And forget about rearranging your schedule to drop your puppy off. The top mobile grooming services offer early morning or weekend appointments. After all, one of the reasons why you're probably looking for a mobile pet groomer in the first place is the convenient schedule.

The best mobile dog grooming services provide a soothing environment. Whether you are arranging a bath for your grubby puppy, or going for a total doggy make-over, the service should be a calming, positive experience for both of you. Just as we humans use spa days or salon appointments as a special treat, when you use mobile dog grooming services, it should be stress-free, and even enjoyable for the dog. The groomers should demonstrate expertise in making your dog feel at home, and they should know how to handle and even pamper her. And if your doggy looks forward to the visits and greets the groomer warmly, that's a sure sign that the service is providing a great environment for your pet to decompress.
Select a knowledgeable dog groomer that knows the details of your breed. Some dogs will have special needs when they're being groomed or bathed. In particular, there are certain breeds, like dachshunds, that bond to a specific individual or that are particularly water-phobic. Highly experienced pet grooming professionals know how to handle virtually any breed, and adapt the bathing and grooming environment accordingly. They may even provide a viewing area for your dog's favorite person so that they can reduce or eliminate any separation anxiety that your dog may have.
You should have the option of picking a preferred groomer. Part of the dog's relaxing, routine experience with a mobile grooming service is knowing that she will meet her favorite groomer buddy every time the mobile salon pulls up. So select a dog grooming service that allows you to have a consistent groomer. Sometimes this is a necessity, if your dog is particularly nervous, has special needs, or otherwise bonds with certain people.
Check the Better Business Bureau and other review sites. The Better Business Bureau has a long track record for listing accredited businesses that have a high satisfaction rate. In fact, it's been collecting and providing free business reviews since 1912. You should try to find a mobile dog grooming service that receives a BBB rating of A+. Also, you can check sites like Google, Yelp, and other sites that third-party online reviews. After all, you'll want only the best for your fur baby.
If you have any questions about mobile dog grooming in the greater San Diego area, or if you would like to schedule an appointment, please feel free to contact us.