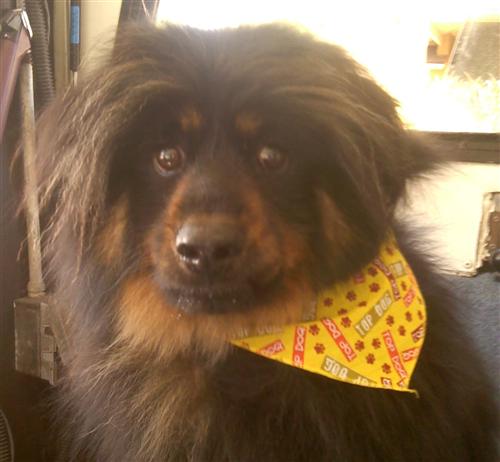 Some dogs seem to grow more fur than they know what to do with. Long-haired dogs, fluffy dogs, and even short-haired cold weather dogs all can seem remarkably uncomfortable if left to manage their coats the 'natural' way. This is one of the reasons we invest in professional grooming in the first place. Groomers can not only unmat long and tangled fur, they can also give strategic haircuts to trim away fur where they simply have too much. Many dogs get a full-body trim at least once a year and it's best to keep excess fur around the paws and tail, in particular, trimmed short all year long. However, many pet owners wonder if they should continue regular trimming in the slightly cooler winter months.
Warm Fur vs Warm Climate
The primary reasoning for this argument is that dogs grow their winter coats naturally and that all the extra fur is there to keep them warm but here in California, it never really gets cold enough to bundle up all that much. Essentially, if you don't need a heavy winter coat, neither does your dog. If your concern is one of style and you simply like for your puppy to look fluffy and warm in the winter, your final decision should be based on breed. Warm-weather dogs like Pomeranians and Spaniels can be left with their light-weight coats. However, popular cold-weather dogs like Huskies and Chows will be much more comfortable with their heavy winter coats regularly trimmed for the fairly warm Californian winters.
Excess Fur Still Gets in the Way
If your dog tends to excess fur, it's important that you do not stop trimming in at least a few strategic places. Between the toes, under the tail, and getting huge furry tufts out of their ears, for instance, all need to continue for your pet's convenience and happiness whether or not you get the full body trim like normal. That said, you trim your dog for a reason, and not just to keep them cool in the summer or to match the seasonal style. All that extra fur tends to get in the way of play time and without a trim your dog may be more susceptible to unpleasant and possibly painful tangles and mats. 
California isn't Alaska
Finally, there are definitely some circumstances where you would think twice about removing an extra insulating layer of fur from your dog but California isn't one of them. Without the risk of ice or snow, you can forget about any concern for 'winterizing' your pets. There is no need for booties, dog sweaters, or even much worry about dry skin. If you lived should be perfectly safe to get your dog their normal full-coat convenience trim right along with their normal grooming schedule all year long.
Talk To Your Groomer
If you're really concerned about whether or not you should get a full trim for your pooch in the winter months, have a conversation with your groomer. They can help you understand which breeds can comfortably go without trimming in the winter and help you build the perfect trimming schedule for your dog. If you just want to change seasonal fur style, a longer trim still gets all excess fur out of the way and can be used to reduce a fluffy winter coat for both comfort and winter fur fashion.
Winter is the perfect time to snuggle up close with your favorite pets. When your dog is clean and properly trimmed for their breed, they will be just as happy and comfortable as you are in your favorite winter clothes. For more helpful tips and advice on how and when to groom your furry friends, contact us today.