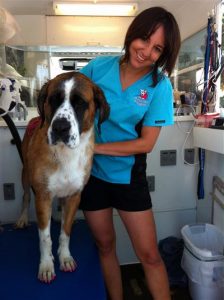 It has been a mystery for years and we are about to blow the lid right off this. We love to do that kind of thing.

One of the questions our dog groomers get most often here at Awesome Doggies Mobile Pet Grooming is about how we get your dog's fur so soft. The next question is about how they, as pet parents, can keep it soft between grooming appointments. We know from our own hair styling salon experiences that getting that fresh from the salon feel is pretty difficult to get at home and totally feel your conundrum. So we want to help you out and let you in on a few dog groomer secrets.
What Dog Groomers Do Right
The type of fur your dog has makes a huge difference. If your dog's fur is coarse or wiry, the end result will never be as soft as a dog with a smooth and sleek coat. It can however be much softer with proper grooming.

The right products make all the difference. Our dog groomers get great results because they use the right products for the particular fur and skin type. Silk protein shampoos are great for fine coats. Dark coats need optical brighteners, while white coats need whitening. Oatmeal and yucca shampoos soothe the skin. Professional groomers use specialized formulated-for-pets high-grade products that do not strip the natural oils from the dog's fur or cause further drying.

Groomers use the right tools. Even if you brush your dog, using the wrong brush and comb could leave fur behind that traps dirt and debris which makes the fur feel rough.

Our dog groomers use more than one product. Groomers do more than just wash the dog. After a great wash using a shampoo that is fit for the dog's fur type, groomers pamper the dog's fur with additional products such as crème rinses, conditioners and finishers to make the fur soft and beautiful.
What Pet Parents Can Do
Brush your dog daily to get rid of excess dog hair.

Their diet makes a difference. Make sure your dog eats quality dog foods.

Consider adding fish oil to your dog's diet. It helps keep their coat healthy.

Remember that home bathing too frequently or using the wrong products (especially those formulated for humans rather than pets) can cause the skin to become too dry and flakey, over-produce oils, or become smelly.
We've heard quite a few crazy theories on how to keep your dog's coat soft like washing them in butter and milk or other long, complicated (if not somewhat dubious) processes. But you don't have to do any of that. The actual answer is pretty easy—keep your pet in good health, use the right tools such as quality formulated-for-dogs shampoo and conditioning products, and bathe and condition your dog at regular intervals. Or you can contact us at Awesome Doggies to schedule your dog's mobile grooming appointment and just enjoy the results.