Obesity in dogs is on the rise and is one of the fastest growing health problems for canines. In fact, obesity is the most common preventable disease in dogs. Approximately 30% of the dog population is obese and over 40% weigh more then they should.
 A recent lifetime study of Labrador retrievers found that even being moderately overweight reduced a dog's life expectancy by nearly 2 years. Studies also show that obese dogs are at greater risk for cancers, diabetes, heart disease, and hypertension. Since obesity seriously (and negatively) impacts a dog's health and longevity, it's a serious consideration.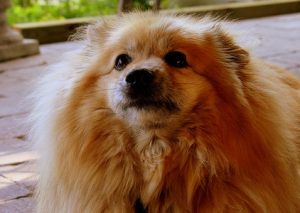 Obesity in Dogs is Preventable
The good news is that obesity is preventable, but it all depends on us, as pet owners. Here in the United States we have access to the best pet foods and pet care available in the world. But, let's face it, if given the choice between premium pet food and trash, dogs would  probably choose the later. So it's up to us to be sure their diets are appropriate for their size, age, and health considerations.
Exactly What is an Ideal Weight?
The best way to identify if your dog has a problem is to take him to a vet for a physical. If you would like to get an immediate idea as to whether or not your dog needs to drop a few pounds, use these three criteria as a guide:
You should be able to feel your pet's ribs as you run your hands along his ribcage.

Looking at your dog from the side, you should see an upward tuck of the abdomen.

When viewing from above, there should be a moderate be narrowing at the waist, just past the ribcage.
Weight Management in Dogs
Helping  your dog maintain a healthy weight is actually a lot easier than it seems when we have the right tools and information. It's best to work with your vet to develop a weight management system but there are things you can do right now to help your dog reach a healthy weight. Here are some helpful tips for slimming down a too-porky furry companion: