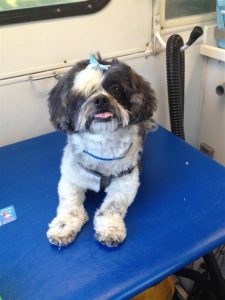 Are you considering a mobile dog grooming salon instead of taking your pup in to a groomshop yourself? There are many reasons why mobile grooming is a great idea! You'll save time, energy, and the hassle of driving your dog to and from the groomers. With a mobile dog grooming salon, the professional groomers will come straight to your house. If you have never worked with a mobile dog grooming salon, it is understandable that you may have some questions about what it is and how it works. In this post, we will go over three key things that you should expect from a mobile groomer before hiring them. 
The Right Equipment: As someone who isn't a pet grooming professional, it is understandable that you probably wouldn't know about all of the various kinds of tools and products that should be used for grooming purposes. However, there are a few key things you can know about and should look for before choosing a groomer. The most obvious piece of equipment that a mobile groomer needs is some sort of specially equipped vehicle such as a large van or a trailer. That vehicle will be equipped with things like a bathtub, grooming table, blowdryer, clippers, special lighting, and all kinds of grooming tools and supplies like shampoos and conditioners for a variety of skin and fur types, trimmers, scissors, and products to clean dogggie ears.  
A Professional And Inviting Appearance: If you are like most dog moms and dads, you wouldn't want to allow your pup handled by a business that is less than professional. The right mobile dog salons dress in uniforms suited to their task, and understand the importance of maintaining their salon with a professional, eye-catching, and inviting appearance. After all, would you trust a dentist to work on your teeth if they wore a tshirt, worked out of their garage, or had shabby looking equipment? Professional groomers should look and behave in a professional manner — and of course do a terrific job.

The Right Services (And The Right Prices): It is a good idea to keep in mind that when mobile dog grooming salons set their prices, they are accounting for *all* the expenses of being able to safely and responsibly provide your pet's care. They aren't just pricing a particular service based on the service itself; they also take into consideration overhead costs such as gasoline, electricity, vehicle maintenance, and insurance, as well as the amount of time they spend driving from appointment to appointment. Mobile groomers cost more than a similar service provided at a traditional groom shop. Most appointments take about an hour and cost in the range of $80-$100. Think of it this way: what other professional tradesperson (plumber, locksmith, repairman, masseur) can you hire for a service call at your home, for less than $100?

Looking for more information related to mobile dog grooming salons and other professional pet grooming services? Please don't hesitate to contact us today with any questions that you might have! Don't forget to keep reading our blog posts for more free resources and visit our official website to view our extensive list of services.