We all remember that tiny dog on "The Wizard of Oz" named Toto. But did you know that dog is what made Cairn Terriers popular? No doubt your pint-sized Cairn has a huge personality like Toto. You'll be pleased to learn that, as busy as your life is, your newly adopted terrier pup is a low-maintenance dog when it comes to grooming—which will make both of you happy. You may find recommendations to 'hand-strip' your Cairn Terrier's coat, but unless your pup is competing in dog shows, there is no need for that. Just keep your life (and his) simpler with these easy tips: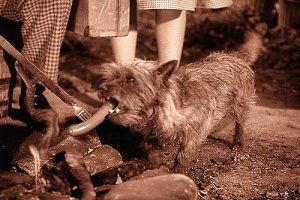 Coat Care
If you have just added a Cairn puppy to your household, now is the perfect time to begin a brushing routine—he may end up loving it or at the very least tolerating it and stay still.
You'll discover his fur will grow fast. Using a pin or slicker brush, you should brush him twice a week to remove loose, dead tufts of hair. If you don't these tufts will tangle and become unmanageable mats. As his fur grows, the hair around his forehead will begin to look a bit ragged. You want to be able to see those beautiful eyes so when the hair begins to grow over them it'll need a trim. As you carefully trim, examine his eyes for an infection or gunk. His tail hair should be clipped so that it forms a cone shape. Since Cairns are prone to skin diseases that begin on the tail you should survey the tail skin as you clip.
The fur between his paw pads are another area that's essential to trim. Clipping this hair isn't only for looks but will keep him comfortable.
Bath Time
As he dashes about your backyard, your pup will most likely love scaring the wits out of squirrels and chipmunks; but his double-coat is waterproof and his great protector. So giving him a bath to keep him smelling good and clean would be a mistake. Why? Frequent baths will soften his naturally rough coat and remove the oils from it. A bath should only be given if you can't brush something out of his coat—or if he tangles with a skunk and gets sprayed. That would be cause for a bath for sure!
Just keep in mind that you must select a dog shampoo only; your veterinarian can suggest some good brands.
Extra Care
Besides caring for the coat, there are other areas that need to be groomed:
Teeth – Good dental health is important to your fur-baby because, like humans, he's susceptible to gum diseases, plaque and tartar build-up. But if you give him nylon and hard rubber toys to gnaw on that can help keep his teeth clean. Most dog owners don't want to attempt to brush their dog's teeth, but if you're brave enough then have your veterinarian show you how to do it and how often. Otherwise, your veterinarian will do it for you.
Eyes – As you carefully clip your Cairn's hair around his eyes, examine them for any signs of infection or any gunk. If one or both eyes don't look right to you, it's best to call your veterinarian.
Nails – Your Cairn will be spending most of his time inside so rough surfaces won't wear out his nails like other dogs; but that doesn't mean your buddy's nails should be ignored. If his nails grow to be too long they could curl and grow into his paw pads—ouch! As he walks this will cause him great pain and probably back aches as well. If you'd rather not tackle his nails for fear of cutting into the quick, then bring him to Doghaus University.
Ears – As you trim your little guy's hair in front of his ears, make sure his ears are free of dirt, wax and infection. If there's some dirt and wax present in one or both ears, remove it by wiping with a bit of mineral oil on a cotton ball.
These wonderful grooming tips will not only keep your beloved Cairn Terrier healthy, but it'll establish a life-long bond between the two of you. If you would like to make use of our mobile grooming services, please contact us.