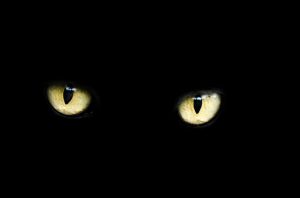 From cat grooming gone wrong to unexpected presents, fur parents know that mishaps happen. Whether you have one cat or several, you will definitely recognize some of the most common oddities and cat-astrophes on our list…
The Almost-Got-It-Done Nail Trimming
You just managed to get your very active cat to sit still for 2.5 seconds. You are super proud of yourself for that and you do not want to make any sudden movements to make this trickier than it already is. For your next trick, you are going to attempt to trim his nails and so far so good. Needless to say, your high-strung cat is just a little bit skittish and just when he looks entirely trusting – you go for it… at the same time a fire truck goes by and scares him off the couch, under the table, through the hall and into the sink. Now, every time you try to trim Mr. Biscuit's nails… he has flashbacks of the incredibly loud noise that he now thinks lives inside the nail trimmers.
The Look-What-I-Found Present
You have had an incredibly long day and all you want to do is curl up in bed. You come home to find your cat looking at you from the corner. Oh, no – this cannot be good. He has that look that he gets when he is well pleased with himself and that never ends well. He's done something… you aren't sure what – but you know he's done something. You walk over to your bed and just before you go to slip beneath the covers you notice a headless chipmunk in all its glory sitting on your side of the bed. Your cat walks over as if to say "Don't you just love it?!" Yes – your cat loves to bring you little tokens of his adoration… if only he could understand that chipmunk parts are not exactly your idea of a good time.
The Late-Night-Sneak-Attack
Nothing apparently brings your cat more undying joy than to attack your ponytail from below while you are in the middle of dozing off on the sofa. Seriously – what's that about? It's got to be some kind of cat-Olympic-games things where your cat gets extra points for times when he attacks the back of your head while you are watching Saw.
The Oh-Hey-Try-To-Walk-Now Move
You really need to get to the kitchen to check dinner before your guests arrive. You smell smoke and are really tired of people saying that your dinners are always burnt… that is not burnt – it's crispy. Anyway, you quickly make your way to the kitchen as fast as you can but for some reason unbeknownst to you… your cat is making figure eights in and out of your legs all the way to the stove. You finally make it to the stove. The tuna is a hideous disaster and your cat is now disinterested in you. Perhaps this was his way of saying he is more than a little jealous of you having company over.
The Oh-Hey-You're-Peeing Thing
Cats are notoriously curious creatures and you may find that your cat really likes following you to the bathroom. Especially if you have one of those weird cats that like to sit in your lap WHILE you pee. The funny part about this is they always seem to come in, cock their head to one side and look almost as if they are saying "Oh, hey you're peeing…" then they simply walk back out into the hall and act as if nothing happened.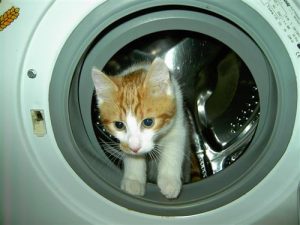 Our cats are as unique as they are wonderful… but at the heart of it, every cat shares some of those same lovable quirks that makes them some of the most joyfully peculiar pets to have. While we cannot help you keep your cat from spying on your bathroom time or keep them from attacking your hair in mid-snooze, we CAN help you keep them well groomed. We are amobile pet grooming business – you don't even have to worry about getting your cat to the car… because you know how that usually turns out. With Awesome Doggies (who also happens to work with awesome kitties), you and your pet get the VIP treatment so you can treat yourself to more together time and less time trying to coax kitty into staying still. To learn more about our services and what we can do for you fur parents and fur kids, contact us today.