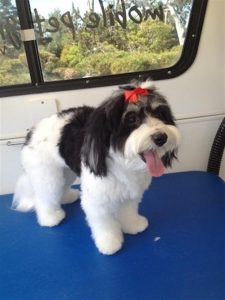 So your beloved puppy is ready for grooming for the very first time in her life? That's great news! Gifting your fur baby with a professional pampering session provides benefits for both them and you. However, if you have never had your dog professionally groomed before, you understandably might not be sure about what to expect. In this post, we will guide you through everything you need to know about preparing for your pup's grooming session
The Initial Conversation: When calling to schedule a time for your grooming visit, we'll need talk about the specific needs of your pet and what you can expect. Generally speaking the emphasis for the first grooming experience should be much more about making sure the pup has a good time, rather than about getting the perfect haircut. Pups have to learn how to behave when being groomed just like they have to learn everything else, and we want them to associate grooming with a lovely spa day. During this initial conversation, you should mention if there are any special concerns or things the groomers should know about your pup (such as allergies, anxiety, or other sensitivities). After getting the details together and going over a general itinerary, the grooming pros will be able to give you a price quote so you know how much everything costs before going in.
The First Meeting: As you are talking out the basic details, your professional groomer will be observing and getting to know your pup. This little 'get acquainted' period is important to establish a comfort level. Expect your groomer to introduce themselves to you and your fur baby and spend a couple of minutes 'making friends' before grooming them. After all, no dog cares to be manhandled by a complete stranger. Dogs want to get to know a person and make sure they are OK before they agree to being groomed by them. It is also important for your pup to see the way their human mom or dad interacts with the new stranger who is going to groom them. If mom or dad is OK with this person, the pup will have an much better chance of being compatible with them too. This first meeting is also a good time to go over any final questions and confirm the price quote. 
Grooming Time: After discussing details and making proper introductions, your pup will experience their first luxurious grooming session. The majority of grooming appointments take about 60 to 90 minutes, so should plan on that amount of time. When the groom is complete, be available to spend a few extra minutes with your groomer looking over your pup and making sure everything meets your expectations. The most professional groomers understand how important it is to make sure pets and their owners are completely satisfied with the results. This is also a good time to learn about how your pup behaved during the grooming session. Were there certain things they didn't like or that made them skittish? Or did they absolutely love the attention they got from a good brushing? After the final conversation, you can discuss your options with the groomers about setting up a regular schedule for your pup.
Looking for more helpful information related to professional grooming, or need to schedule an appointment for your fur baby? Feel free to contact us today with any questions you have!